Dental Crowns - Eastside Albuquerque, NM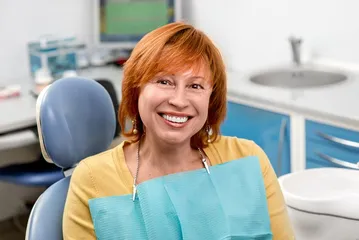 No one ever plans to deal with a cracked or chipped tooth, but when the problem arises it's certainly comforting to know that you have a dentist you can turn to for restorative treatment. Most damaged teeth can benefit from a dental crown, a tooth-shaped restoration that our team places over the tooth to make it stronger while also protecting what's left of the natural tooth's structure. Dental crowns can provide a variety of benefits.
What Are Crowns Made Of?
While crowns in the past were made from a variety of materials, today they are mostly made from porcelain. Why? Because we believe that your restorations should look just like real teeth, don't you? We know that restorations that are as durable as they are esthetically pleasing are important to our patients. We want to give our patients crowns that look just like their real teeth.
Why You Should Get a Dental Crown
Crowns are one of the most commonly placed restorations. That's because they are often the first restoration used when a tooth becomes damaged. This is because the restoration covers and encapsulates the natural tooth structure to ensure that it stays protected so it can't become damaged.
Reasons for a dental crown include:
To restore strength and functionality into a damaged or severely worn tooth
To improve overall chewing strength
Preserve and protect a weakened tooth such as a cracked tooth
To improve the appearance of a tooth that is misshapen, malformed, or discolored
To cover a tooth after root canal treatment
To support a dental bridge
To cover a dental implant
To replace a large filling

Process For Getting A Crown
A crown, just like all restorations you get here at Ross Family Dental, is customized to your smile. After all, everyone's teeth are different shapes and sizes, and we have to create restorations that accommodate these unique differences. To prepare for your crown we will first need to examine the tooth. If there is an infection present, we will need to treat the infection first.
From there, we will shave down parts of the tooth to make room for the crown. We will then take impressions of your mouth. Since it can take a couple of weeks for a dental lab to craft your crown, we will place a temporary crown over the tooth to protect it.
Once your permanent crown is ready, you'll come back into our office, where we will remove the temporary crown, check the look and fit of the permanent crown, and then cement it into place.


If You Are Interested In Restoring Damaged Teeth With Crowns, Ross Family Dental Can Help! Call Our Eastside Albuquerque, NM Dental Office Today At (505) 293-7441 To Schedule An Appointment.